View all posts
Personal Bankers of Little Rock: Erin Karlonis
August 9, 2018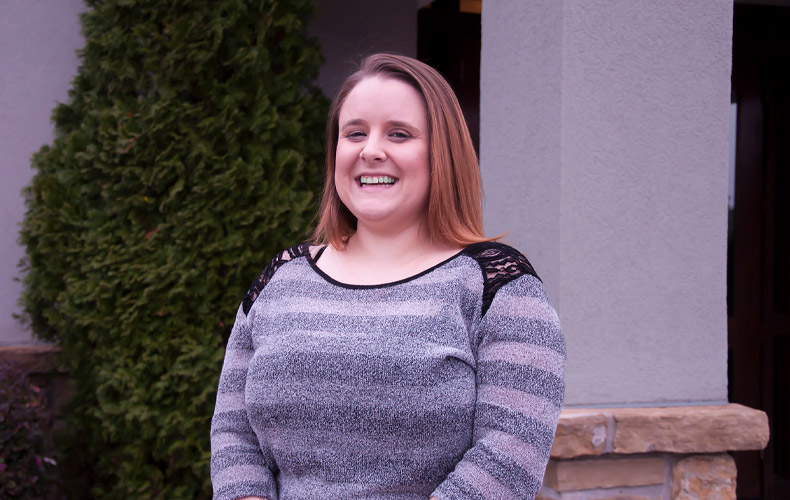 Even now, as a young woman, Erin Karlonis has already had more life adventures than many people ever will.
Born in Cherry Point, N.C. (both of her parents were serving our country at the time), Erin had some moves in her future – the first at age two when her family moved to Oregon. Then, when she was five, her father was stationed in Central Arkansas and the family took up residence in Cabot. "It was great growing up in Cabot," Erin says, "and very interesting with so many service families there from around the country."
Erin graduated from Cabot High School in 2006 and began her unlikely post-school career by joining the U.S. Coast Guard! After completing what she refers to as a fairly brutal boot camp experience, she was stationed in South Carolina for a year. There, she studied to be a Gunner's Mate (including all manner of firearms and ammunition training) before her tour of duty took her to Honolulu, Hawaii.
And this is where it gets interesting! While stationed in Hawaii, Erin served on patrols in China, Japan, Panama, Western Samoa, American Samoa, and Guam – along with several other exotic places!
When her 4-year tour of duty was winding down, she met the young Marine who was to be her future husband. Edward Karlonis was a native of upstate New York. The two fell in love and as Erin's tour ended, she moved back to Little Rock with plans for Edward to join her when his tour ended six months later.
Back in Little Rock, Erin took a job selling cars at Bale Chevrolet. Although some aspects of that were fun, she determined that it wasn't the career she wanted. So, in late 2011, she had the opportunity to join Bank of Little Rock as a teller in the Rahling Road branch. In 2012, Edward joined Erin in Little Rock and the two of them were married (in Jamaica, naturally).
Two years after joining Bank of Little Rock, Erin was promoted to Assistant Branch Manager. And in August of 2016, she was again promoted, this time to Branch Manager. She says the most challenging aspect of her job involves handling Branch management responsibilities while still serving on the front line with customers. But this is far outweighed by the great relationships she has with those customers. Plus, she loves the family atmosphere that has been created within Bank of Little Rock, and the fact that her associates are always happy and cheerful, and that they take care of each other inside and outside of the Bank.
Today, Erin and Edward love their two babies – of the four legged variety! One's a 7-year-old Australian Shepherd mix and the other's a 6-year-old Whippet/Lab mix. Erin's favorite hobbies are reading and scuba diving (once in the Bahamas with six Reef Sharks) and she loves all outdoor activities, especially hiking. Edward completed Respiratory Therapy School in May, 2017 and he is currently a licensed Respiratory Therapist. (Did we mention that Erin is also a trained and licensed Emergency Medical Technician?)
As you can see, Erin has lead a very interesting life so far. And we at the Bank of Little Rock are very proud to count her as one of our young, Personal Bankers. If you're out in west Little Rock, be sure to stop in at our Rahling Road branch and introduce yourself!