View all posts
Personal Bankers of Little Rock: Lauren Braggs
November 23, 2018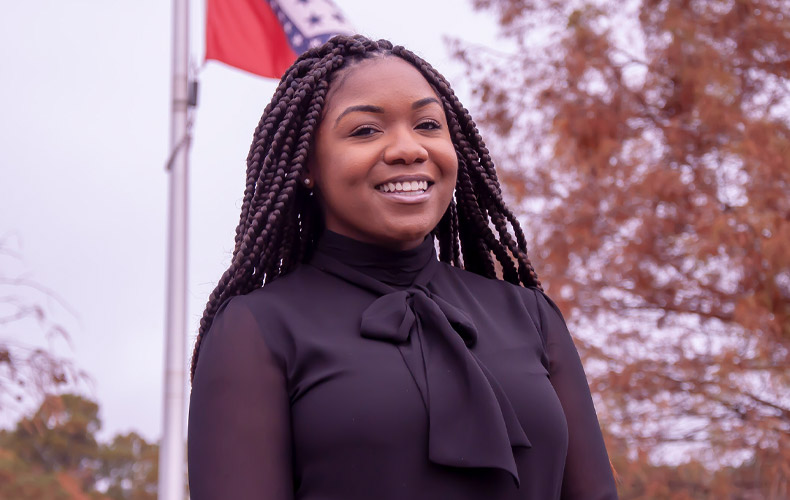 Lauren Braggs is one smart lady – and we're so glad she's a member of our Personal Banking team on Rahling Road!
Lauren was born and raised right here in Little Rock. Her parents, Larry and Angela Braggs, provided Lauren with two siblings – an older sister, Lachrystal, and a younger brother, Matthew, who is currently attending Clark Atlanta University.
After graduating from Little Rock Central High, Lauren attended college at Southern Arkansas University in Magnolia and worked at Target while at home during summers. There she served as a team leader until she graduated from the University with a B.S.N. degree in Psychology.
Armed with her degree, Lauren set out to begin a career. She had the opportunity to interview with Bank of Little Rock and was thrilled to be, as she put it, "hired on the spot!" So on October 16, 2017, Lauren became the newest teller at our Rahling Road branch – a position she still holds today. When asked what thrills her most about her work, Lauren says she's looking forward to the opportunity of being available to fill in for other tellers who are out, so she can get to know her colleagues and teammates at the Bank's other branches.
In addition to her work with Bank of Little Rock, Lauren is now working to earn duel Masters Degrees at Webster University in Human Resource Development and Human Resources Management. Her plan is to graduate with those degrees in May, 2020.
Although not yet married, Lauren has been in a committed relationship for the past five years with Keith Washington, who supervises dietary aids at the Briarwood Nursing Home. Together, the two of them love to shop, go to movies – and to eat great food! They especially like spending time with their families and friends and watching sporting events together.
Meeting new customers and getting acquainted with longtime customers has been a blessing, according to Lauren. "The customers have always been very welcoming to me, especially when I began at the Bank. I'll never forget how nice they've been to me and I'm so grateful to have had that experience." She went on to say, "My teammates at the Bank went out of their way to 'show me the ropes' and I'm very grateful to all of them, as well."
When asked what the most difficult part of her job is, Lauren said that she hadn't experienced that yet. Given her bright outlook and attitude towards her work and towards other people, that's not hard to believe. If you're not one of our Rahling Road branch customers, we invite you to drop by at your convenience and meet this delightful young lady. We promise you'll be glad you did!