View all posts
Personal Bankers of Little Rock: Jasmine Miller
December 20, 2018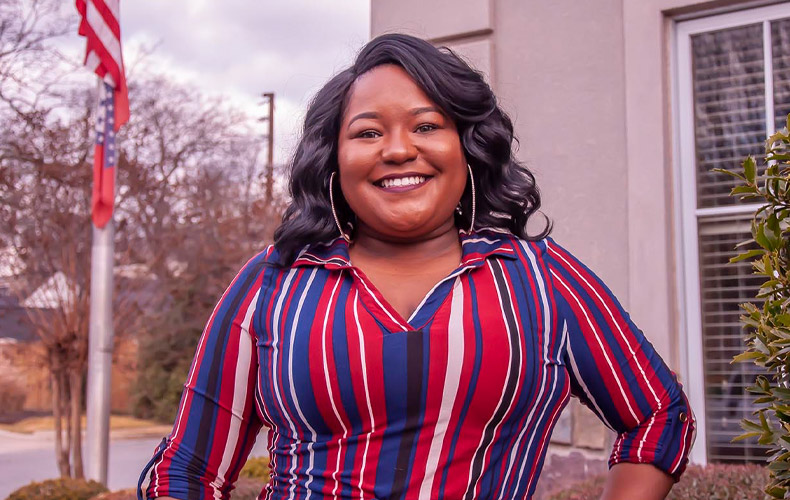 Jasmine Miller, one of our up-and-coming Personal Bankers, claims she leads a boring life. Others might say she's simply followed a straight and narrow path to where she's arrived today.
Jasmine has called West Little Rock her home since day one. When she was nine, Jasmine's parents, Marvin and Kimberly Baltimore, bought a home off Stagecoach Road that, she says, felt like it was out in the country. There, she had plenty of room to explore and play with friends but when it came to school, she worked hard to make good grades and dreamed of going to college.
She is blessed to have an older sister, Alexis Nelson, but the two of them tragically lost a younger brother, Marvin, Jr., to cerebral palsy when he was only six years old.
During High School, Jasmine landed her first job in Little Rock's first Krispy Kreme store where she worked weekends and some evenings after school. During her senior year in High School, she participated in a work study program and worked at Walgreens drug store at nights and during the summer.
After graduating from Little Rock Central High in 2009, Jasmine enrolled at UCA in Conway, yet after her first year, she wasn't sure that was the path she wanted to take. But after laying out for a while, she realized that finishing her education was the smartest thing she could do. She enrolled at UALR, worked hard, and, in 2016, graduated with a B.A. degree in Criminal Justice with a minor in Psychology. During that time, Jasmine also worked at the Bank of Little Rock's Rahling Road branch (from 2014-2016).
In 2016, Jasmine took a job with the Arkansas Department of Human Services, where she served as a social worker – which directly related to her college minor. But she recalls how stressful that job was. "I loved working with families and children but their situations were oftentimes very tough. It broke my heart to acknowledge the limits I had in trying to take care of them."
2018 was a huge year for Jasmine for two reasons – she married her sweetheart Patrick Miller and came back to Bank of Little Rock, this time at the Heights branch! Husband Patrick is a truck driver for Car-Son Construction Company, based in North Little Rock, and he has just begun a business of his own, Miller's Hauling, that he plans to grow.
Today, Jasmine is preparing to enter graduate school at Walden University where she plans on earning a Masters Degree in Human Services. Her long-range goal is to start a non-profit social services agency that focuses on women who come back into society after being incarcerated. According to Jasmine, "Through my criminal justice education, I know how difficult it is for women to get back on their feet – especially if they have children – once the mother has been released from prison. I'd love to make a positive difference in their lives."
At home, Jasmine and Patrick love shopping together, going to movies, and raising their American Bully puppy. Patrick's main hobby has also become Jasmine's – auto racing. In fact, Patrick owns a race car and has a race crew of his own, and participates in various racing competitions under his "Fast Life Racing" brand. Jasmine says it's become a big part of her life (and she loves it).
At Bank of Little Rock, Jasmine hasn't run into any challenge yet that she couldn't overcome. And her favorite part of the job is having relationships with her customers. "Here at the Heights branch, my customers are friendly and funny – I just love taking care of them."
Jasmine's a sweet, smart young lady who knows how to reach her goals. If you don't know her already, come by our Heights branch and make a new friend!