View all posts
Personal Bankers of Little Rock: Johnathan Woodson
12/5/19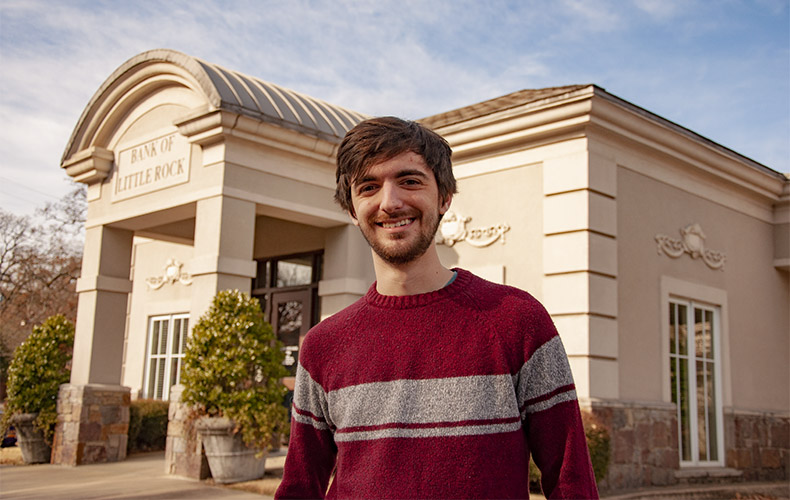 Johnathan Woodson has become a familiar face to all of our Heights Branch drive-through customers. Here's the story behind the face!
Johnathan was born in Little Rock in 1996 and reigned supreme until his sister Elizabeth came along four years later. Their family moved to North Little Rock when Johnathan was eight and there they lived until Johnathan completed his time at North Little Rock High School. His only non-banking job, while still in High School, was at Firehouse Subs where he earned money for his summers.
At age 17, Johnathan was admitted to the University of Central Arkansas where he studied Film and Creative Writing, obtaining his Degree in 2018. Outside work during his college years consisted of two internships at UCA, one for the College's student magazine and one for UCA's art magazine.
Johnathan joined Bank of Little Rock on December 3rd , 2018 – and congrats to him for completing his first year with us! As mentioned, Johnathan serves as the Heights Branch drive-through teller which gives him lots of opportunities to engage with customers every day. He also looks forward to expanding his duties within the Bank.
When asked what he likes best about being part of the Bank of Little Rock family, he says, "It's such a peaceful environment – very laid back, which I really enjoy." Nothing strikes Johnathan as being particularly difficult about his work at the Bank. "I enjoy the people that I work with and we all support one another," he added.
Today, Johnathan lives in Maumelle and outside of his work at the Bank, he most enjoys going to movies, playing video games, and listening to music – all genres. But his dream is to some day find his way into the film business. This has been a life-long passion and, given his talents, we may someday read his name in the credits on the big screen. In the meantime, be sure to take a trip through our drive-through window in the Heights and give Johnathan a thumbs up!