View all posts
Personal Bankers of Little Rock: Vanessa McCullough
3/23/20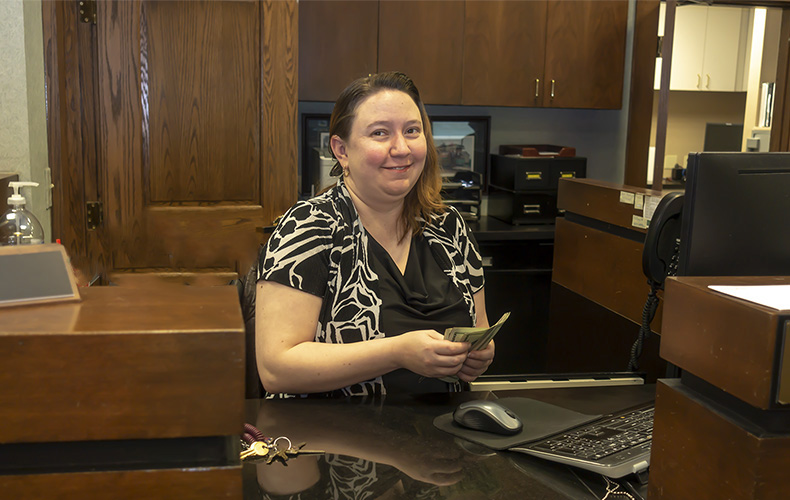 The Big Easy? That's where Vanessa McCullough hails from.
At age seven, her family (which, by then, included a younger brother) moved from New Orleans to Metairie, Louisiana where they lived until moving to Slidell, when Vanessa was in the fourth grade.
When Vanessa was eighteen, another sibling showed up, this time a baby sister. Vanessa laughs when talking about a sister 18 years younger than she, saying, "At that point, we were like two separate families."
After graduating from Nunez Community College in the New Orleans suburb of Chalmette, Vanessa married another Nunez graduate, Robert McCullough. They settled in Slidell and Robert took a job with Entergy Corporation.
In 2018, Robert's job brought the two of them to Arkansas, and that's when Vanessa became part of the Bank of Little Rock family.
Working in the Heights Branch, Vanessa's job is all about customer service, serving as a Teller, opening customer accounts, providing online banking help, and researching customers' accounts, as needed.
According to Vanessa, "I love our laid-back environment and I love having personal relationships with our customers. They want that personal touch -- real people, not machines."
Although Vanessa says that nothing about her job is usually overwhelming, she remembers one experience of having to count and manually roll a full bucket of change for a customer. She says, "It turned out to be more than $500 in pennies, nickels, dimes, and quarters and it took us about a week to finish."
Outside of her work at the Bank, Vanessa and Robert are huge fans of online gaming, especially one named World of Warcraft, which she refers to as a MMORPG (Massive Multi-Online Roll-Playing game). She and Robert are members of A Guild of more than 250 individuals dedicated to this game and they often play and speak with dozens of other players from around the world, together in real time. "The character I play is a Troll Female Hunter," she says, "and every game character comes with a set of special powers that are used in the game."
Even though Vanessa is from New Orleans, she says she hates cooking! Fortunately, her cousin (who is a professional chef) lives with Vanessa and Robert so Vanessa says, "We eat very well!"
From their home in Benton, Vanessa doesn't mind the daily commute to the Bank's Heights Branch. She says getting to work with her customers makes it all worthwhile.