View all posts
Personal Bankers of Little Rock: Tiffani Sheets
9/25/20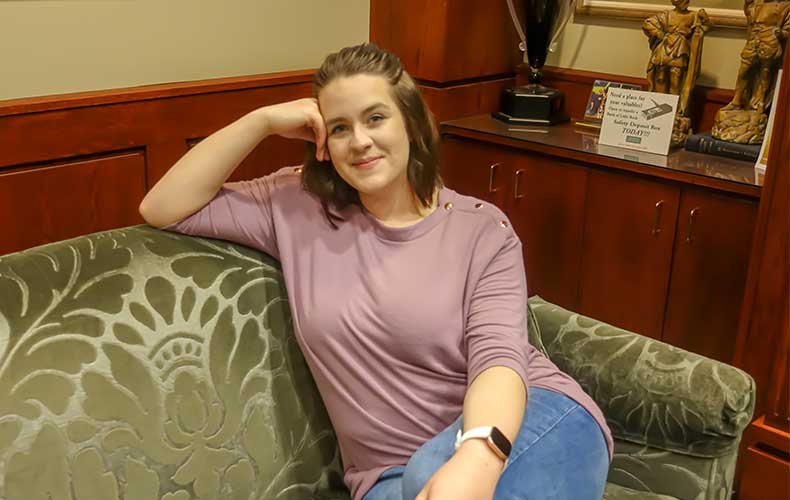 Meet Tiffani Sheets -- a recent addition to the Bank of Little Rock's team of Personal Bankers. Tiffani was born in Searcy in 1993, but almost immediately moved to Viola, Arkansas where she lived for much of her childhood with her grandparents. Tiffani was followed into the world by two younger sisters, Brooklyn and Caitlin.
When Tiffani was 11, she moved to Melbourne, Arkansas to live with her dad and she graduated from Melbourne High School in 2012. While still in High School, Tiffani took her first full-time job working as a cashier for a retail store. During the school year, she worked evenings and switched to full-time during the summers and through her work there, she was able to buy her first car.
Tiffani moved to North Carolina after High School and started her banking career with Wells Fargo. She missed home and moved back to Arkansas in 2016, where she joined the staff at First Community Bank in Batesville. Although she was hired as a Teller, she was quickly promoted to the Loan Department, loving that new responsibility.
Another reason why 2016 was an important year for Tiffani is because that's when she met her future husband, Josh Sheets. Tiffani and Josh moved to Little Rock in 2018 and the couple got married in December of that year. At that time, both went to work for State Farm Insurance Company.
Tiffani realized her real professional love was banking and, in October of 2019, she joined the Bank of Little Rock team as a Teller, working in our Rahling Road branch. Only eight months later she moved to our Main Branch, which gave her an opportunity to learn more about all aspects of Bank of Little Rock's business.
In June of 2020, Tiffani and Josh gave birth to Alexander, who Tiffani swears is, "the cutest baby in the world!" (And she means it.)
Like so many of her Bank of Little Rock teammates, Tiffani most appreciates the family environment found within the Bank. "I just love the people I work with," Tiffani says, and although she doesn't run into many problems she can't solve for customers, Tiffani's teammates are quick to help, whenever needed. "When that happens, it's a great learning opportunity," she says.
Today, in addition to raising Alexander, Tiffani has recently begun taking tap dancing lessons, and she's developed a passion for it. She says, "Back in North Carolina, I learned to ice skate and that's something I'd like to take up again. But tap dancing requires even more muscular coordination and I love how smoothly I'm learning how to
move."
She and Josh also love cooking together and Tiffani's favorite dish to cook is Lasagna. "I add mushrooms, peppers, sausage -- all the good stuff -- and it's truly delicious!"
Although our lobbies remain closed for the time being due to COVID-19, you can find Tiffani at our Main Branch taking care of drive-through banking customers. Be sure to meet her the next time you're there.