View all posts
Personal Bankers of Little Rock: Ellen Rackley Published: November 20, 2020
11/20/20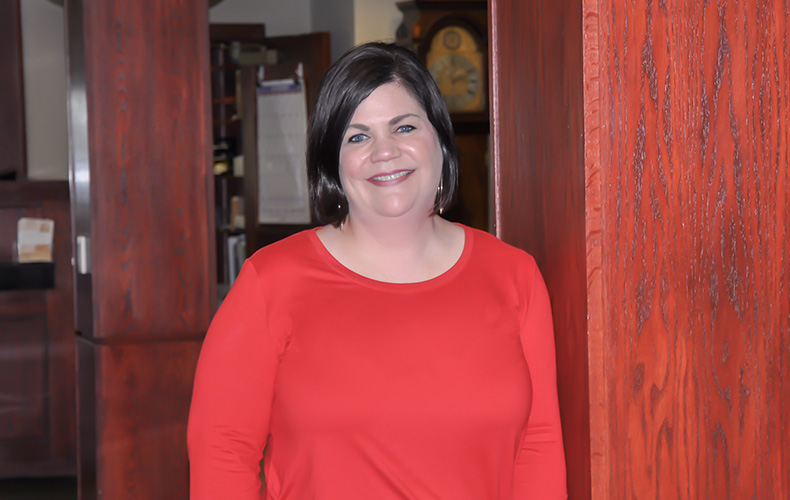 Talk about a natural banker? That would be Ellen Rackley, who started her bankingcareer while still a full time college student.

Born in Little Rock, Ellen spent her youth growing up in the Otter Creek area of the city. Since her dad was a Softball Commissioner for the Little Oaks ballpark, Ellen learned to love the game early on and spent much time on the field. When asked what positions she played, she says "first base -- but I could throw you out at third in a heartbeat!"

Ellen worked during High School, her first job being a hostess at Ruby Tuesday's restaurant. After working at Ruby Tuesday's, she "graduated" to Chuck E. Cheese, where she said, "although that was fun, everyone does their time in the rat suit!"

After graduating from J.A. Fair High School, Ellen enrolled at UALR and began working on her Degree. She also took her first job in banking at Metropolitan National Bank working as a Teller. While a full-time college student, she also worked a full schedule at the bank, resulting in some very busy years for Ellen. Even though her early desire was to be a teacher, a different career presented itself to her in banking.

When she graduated from UALR with a B.A. Degree in Liberal Arts, she was given the opportunity to join Metropolitan's management team. There her work included lending, training, and other areas of bank management.

During the past 24 years, Ellen has also worked for Pulaski Bank, Simmons Bank, Bank OZK and the Benton branch of Malvern National Bank. But when she joined Bank of Little Rock as Manager of Electronic Banking in February, 2020, she knew she had found her professional home.

"Jennifer Duran is my boss and I just love her," says Ellen. "And although I still take care of customers directly, not having to manage other associates at the bank has reduced my stress level." Ellen takes all customer calls that have to do with the Bank's online banking platform, ranging from Mobile Banking to their online Bill Pay feature. So, even though she doesn't meet with them face-to-face, she's able to take care of them via the phone.

Nine years ago, Ellen married Tom Rackley, currently a logistics manager for Skippy Foods here in Little Rock. (Interestingly, Skippy Foods manufactures and sells peanut butter, beginning with roasting the peanuts right here at their facility in our industrial park.) When they married, Ellen had a son, Jordan, and Tom had a son, Garrett and a daughter, Molly. Today, these kids range in age from 19 to 28, making for a wide variety of family activities.

Ellen has always loved her church and her music so she stays very active at Geyer Springs Baptist Church, where she's currently working on a Christmas program. In addition, Ellen is a founding member of the Saline County Lions Club, where she serves as their Treasurer. Obviously, she leads a full life. But not too full to take care of your
banking needs. If you're one of our customers, and have any questions or issues regarding your electronic banking, then Ellen is here to come to your rescue!