View all posts
Personal Bankers of Little Rock: Abby Thompson
12/11/20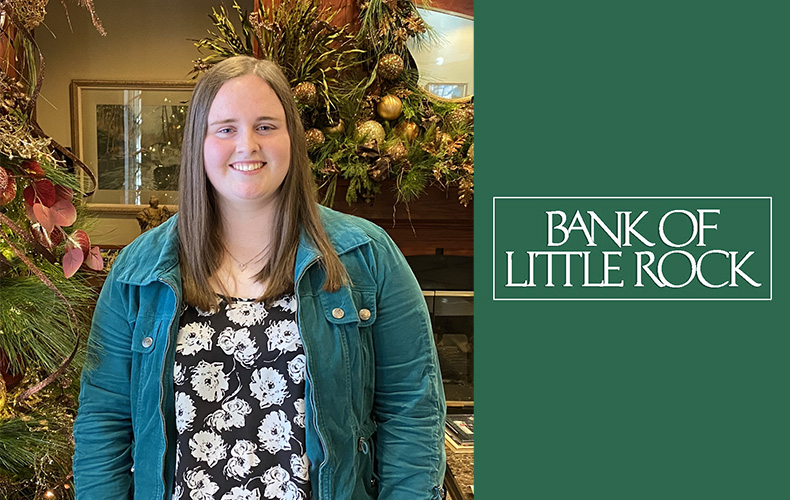 We'd like to introduce you to Abby Thompson, one of the credit analysts in our downtown branch, and a recent addition to our team of Personal Bankers.
Abby was born and raised in Jonesboro, where her father was (and still is) a football coach at Jonesboro High School and her mother was a social worker. Two younger brothers also came into Abby's life -- Jackson, now a senior at Jonesboro High, and Drake, a freshman at Arkansas State University.
Abby attended school in Jonesboro and graduated from Jonesboro High, before enrolling at Arkansas State University. While in High School, Abby refereed soccer games for both boys and girls, from ages 6 to 15. With a wink, she says, "It helped train me for customer service because the refs got yelled at a lot."
During her college years, Abby worked at Newk's restaurant in Jonesboro and, in the summer before her senior year, she interned at Arvest Bank. Abby graduated from ASU in 2019 with a degree in Finance. Her graduation present was a trip, with her mom, to Seattle where she loved the natural and beautiful surroundings of the city. She says, "I think that trip planted a seed because one goal I have now is to travel as much as I can and experience new places."
Although the onset of COVID made job hunting tough, Abby was hired by Eagle Bank as a credit analyst -- not typically an entry-level job, but she believes her Finance Degree and banking Internship helped.
In August of 2020, Abby joined Bank of Little Rock as a Credit Analyst, working in our downtown branch. Abby says that, "At Eagle bank, my only real connection was with my boss. Here, I get to interact with everyone on the staff and it's so much more familial -- I really like that."
Outside of the Bank, Abby loves to cook. Plus, she loves taking weekend trips to see friends and family. Her mom comes down to visit from Jonesboro and her dad coaches games in Central Arkansas so her connection to both parents remains strong.
Abby dreams about traveling to all 50 states at some point; she's been to 15, so far. "I tend to be a worrier," she says, "and so to deal with COVID, I try to focus just on today and not worry about the future."
In fact, we think Abby's future looks very bright. She's smart and engaged, and we're proud to have her on our team. We hope you get to meet Abby someday soon.