View all posts
Kim Markland Promoted to President of Bank of Little Rock
8/8/22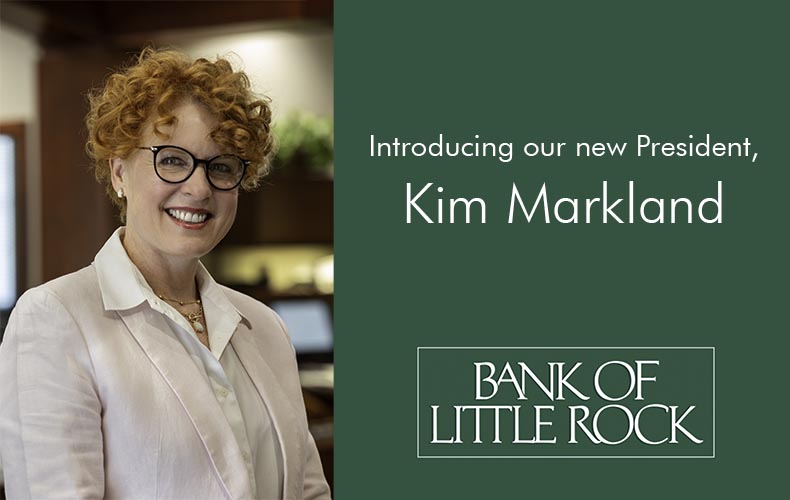 We are pleased to share the news about the promotion of Kim Markland to President of Bank of Little Rock, which was announced at our July 19th Board meeting. Kim has been with Bank of Little Rock for almost 22 years and we'd like for you to get to know her better.

After spending her formative years growing up in Prescott and graduating from Prescott High School, Kim Markland became interested in the financial world. Four years after enrolling in the University of Arkansas at Fayetteville, Kim graduated with a degree in finance and banking. "While in college I worked as a bank teller both in my hometown and in Fayetteville. That is where I developed my love of banking and how I knew I wanted to major in finance," she says.

Kim's first job after college was working for The Arkansas State Bank Department as a bank examiner where she gained valuable knowledge about the banking industry. However, after four years as an examiner, the travel schedule began to grow old. Kim put it this way, "I loved my early experience in banking but knew that if I wanted to start a family, then it would be smart to find a career that would keep me in one place!"

Kim was hired by First Commercial Bank in 1996 to work in their Loan Review Department, but in just under a year she was offered an opportunity at Little Rock's Central Bank, where she stayed for six years. That's where she discovered the kind of personal banking relationships only found within smaller, community banks. Kim says, "At heart I am a small-town girl and I think that is what drew me to Bank of Little Rock. It is like a small-town bank in a big city. We really pride ourselves on building relationships with our customers. A lot of banks claim to do that, but I have worked at a lot of banks and Bank of Little Rock does it better that anyone else." When she joined Bank of Little Rock in 2001, Kim's experience continued to grow. Prior to being named President of the Bank, she served as Senior Vice President of Loan Administration. Although much of her work is conducted "behind the scenes" at our downtown branch, her job carries a long list of responsibilities, which include managing a small portfolio of loans, supervision of the loan administration department, compliance, and financial analysis, as well as serving as a member of the bank's loan committee.
On a personal note, Kim and husband Quentin, who is Director of Operations for Twin City Transportation, have been married for 27 years and have two wonderful daughters, 23-year-old Anna and 18-year-old Laura. Anna just graduated with a Masters Degree in Accounting and Laura is beginning her sophomore year in August at the University of Arkansas. The Markland family loves to travel and their favorite place to spend time together is in Colorado skiing and hiking. When in Little Rock, Kim enjoys bicycling and reading (in her words) "tons of books."
According to Kim, "When Pete Maris and George Worthen started Bank of Little Rock, Pete was CEO (as he still is) and George was President. Pete remains our Chairman and CEO and my goal is to continue the professional and cultural legacy that our founders established. To me, and to my associates here, the Bank is our second family and it's a very special bond that ties us all together."
Kim is eager to increase her contact with the Bank's customers and will oversee all operations of the Bank in her new role. We're proud of Kim and know you share our best wishes for her continued success!